DISCOVER KABE Vol.7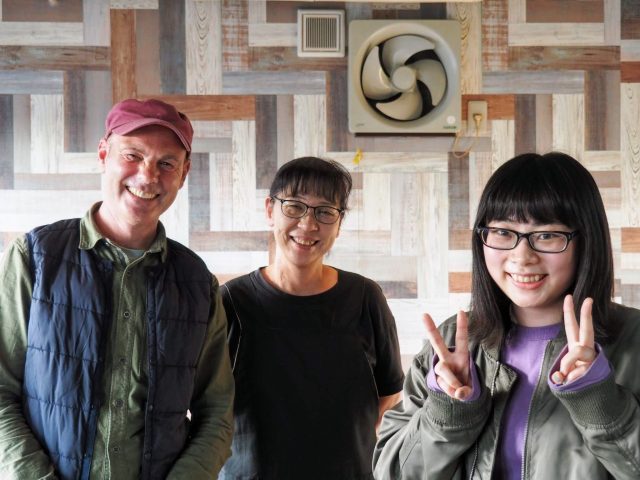 I have long been a fan of Japan's junkissa – post-war coffee shops characterized by coffee making apparatus that looks more like it belongs in a chemistry lab than a cafe, and retro decor often coated in the patina of tobacco smoke. So, it is unsurprising that coffee shop Monami, just along the river from Hiroshima Bunkyo University, had been on my radar for a while.
喫茶店特集を組むのを夢にし続け、早20年。(今だ実らず。)
日本の喫茶店大ファンのポールがもちろん前から気になっていた
「珈琲&軽食 モナミ」さんに突撃取材。
On this outing, we were delighted to be joined by Ochi-san, a Hiroshima Bunkyo University student. I enjoyed listening to her talk about college life and her future plans as we walked along the riverside on a warm autumn afternoon.
今回は広島文教大学3回生の越智さんも加わって、取材へ。
大学から喫茶店までは徒歩数分。土手を歩く道は、静かで落ち着きます。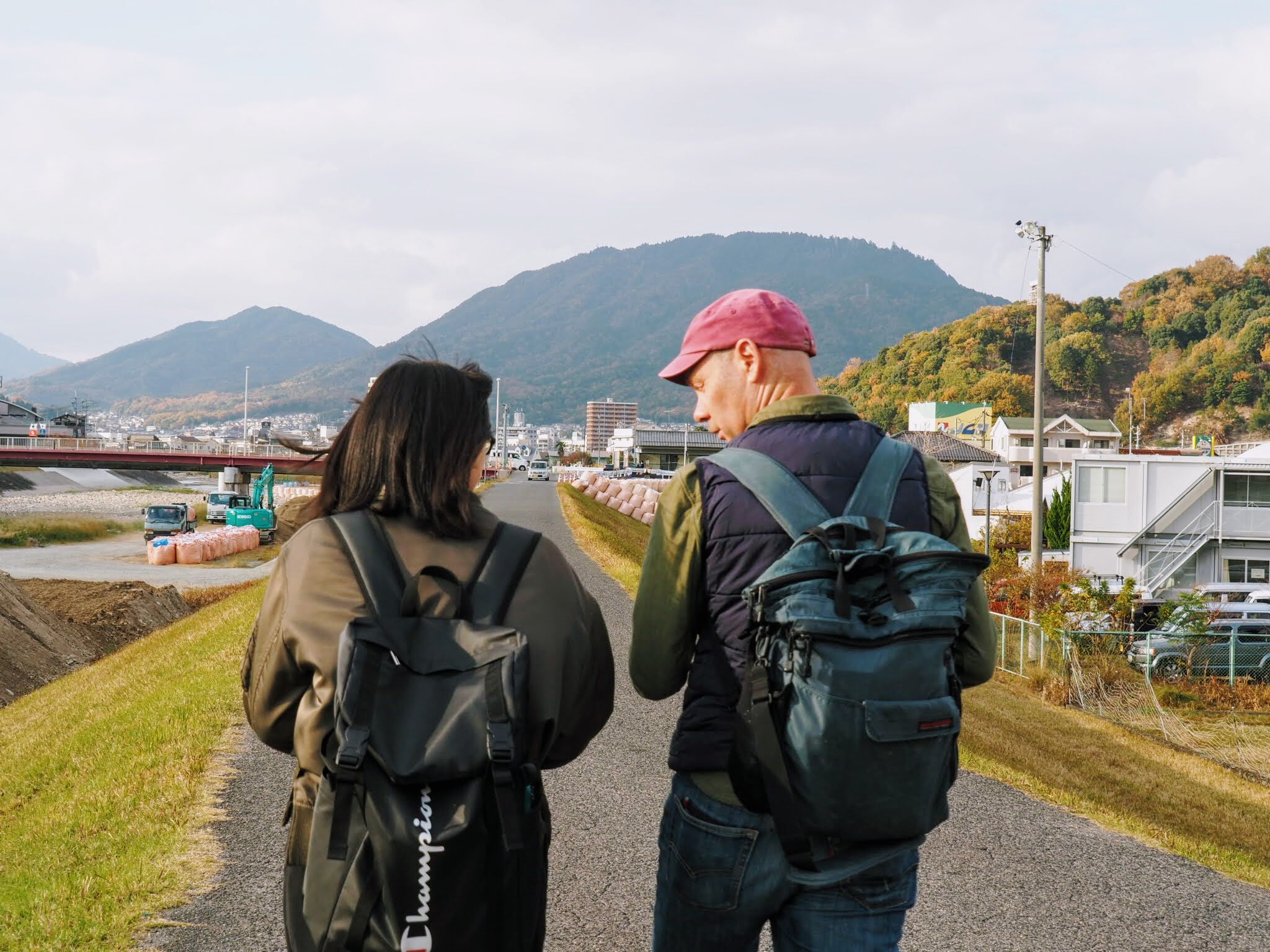 Hiroshima Bunkyo teachers must be doing a good job as Ochi-san's English was very impressive!
行き道はポールと在学中に行った留学先の話で盛り上がるほど、グローバルコミュニケーション学科の越智さんの英語が堪能なことから、広島文教大学の先生方はきっと良いお仕事をされておられるんだろうなぁとポールもしみじみ。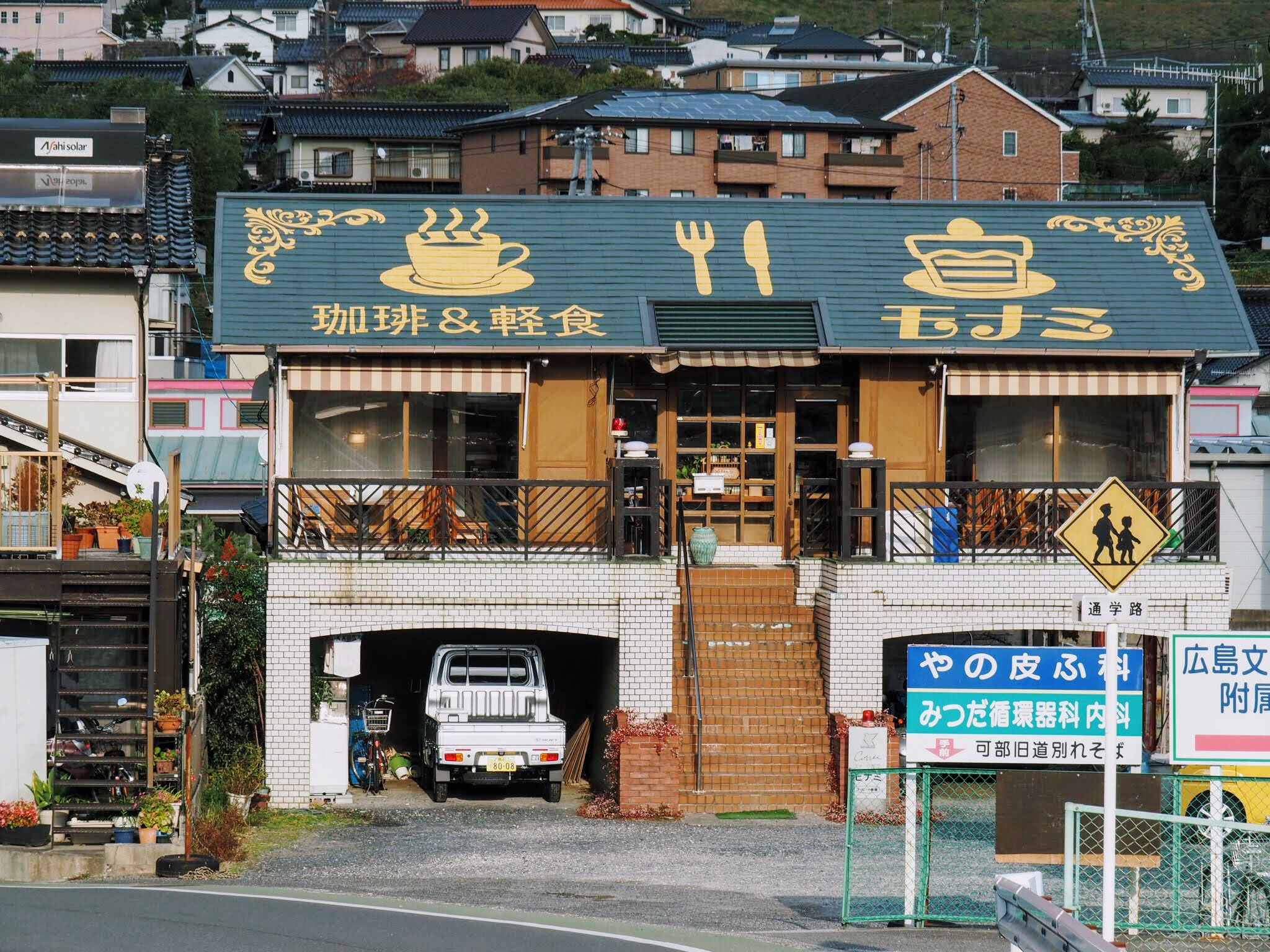 And so, on to Monami. There is no mistaking what this place serves, its wares confidently announced from the rooftop. As much as I enjoy junkissa, unsure as to what kind of reception one will receive, it is always with a slight feeling of trepidation that I push open the door of one of these local places. I needn't have worried, of course. The no nonsense owner welcomed us from behind the counter and casually directed us to a brightly lit table next to one of the large windows.
地元の喫茶店のドアを引くまでどんなお店なのか分からない、ちょっとした不安を楽しむことも純喫茶の楽しみの一つです。カウンター越しに店主が窓際のテーブルへ案内してくれました。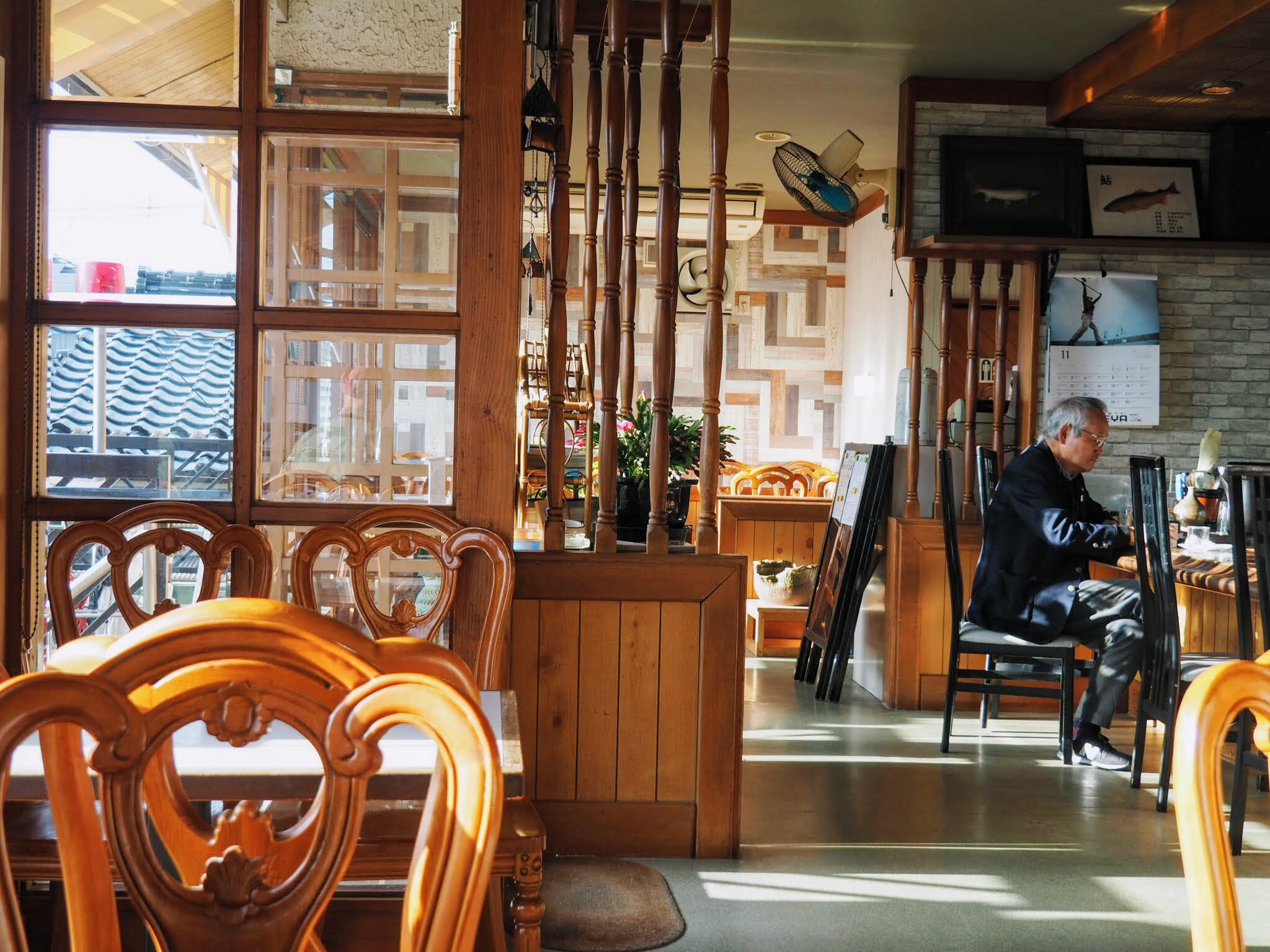 Although seemingly well ingrained in everyday culture, Japan's junkissa are something of an endangered species. They seem to be everywhere, but younger people are rarely to be found in them. Ochi-san explained that she and her friends preferred more modern cafes, but I was still surprised to hear that this what not only her first time at Monami, but her first time at a junkissa of any kind.
店内はカウンターと左右には広々したテーブル席。
そしてなんと、いわゆる"喫茶店"への入店は今回が初めてという越智さん。
Junkissa often have quite a varied selection of food to choose from and Monami is no exception. Personally, however, I always have to do a toast check! I just just love the buttery thick-cut toast served in kissaten!
もはやトーストセットしか目に飛び込んでこないポールには、フッワフワのジャムトースト。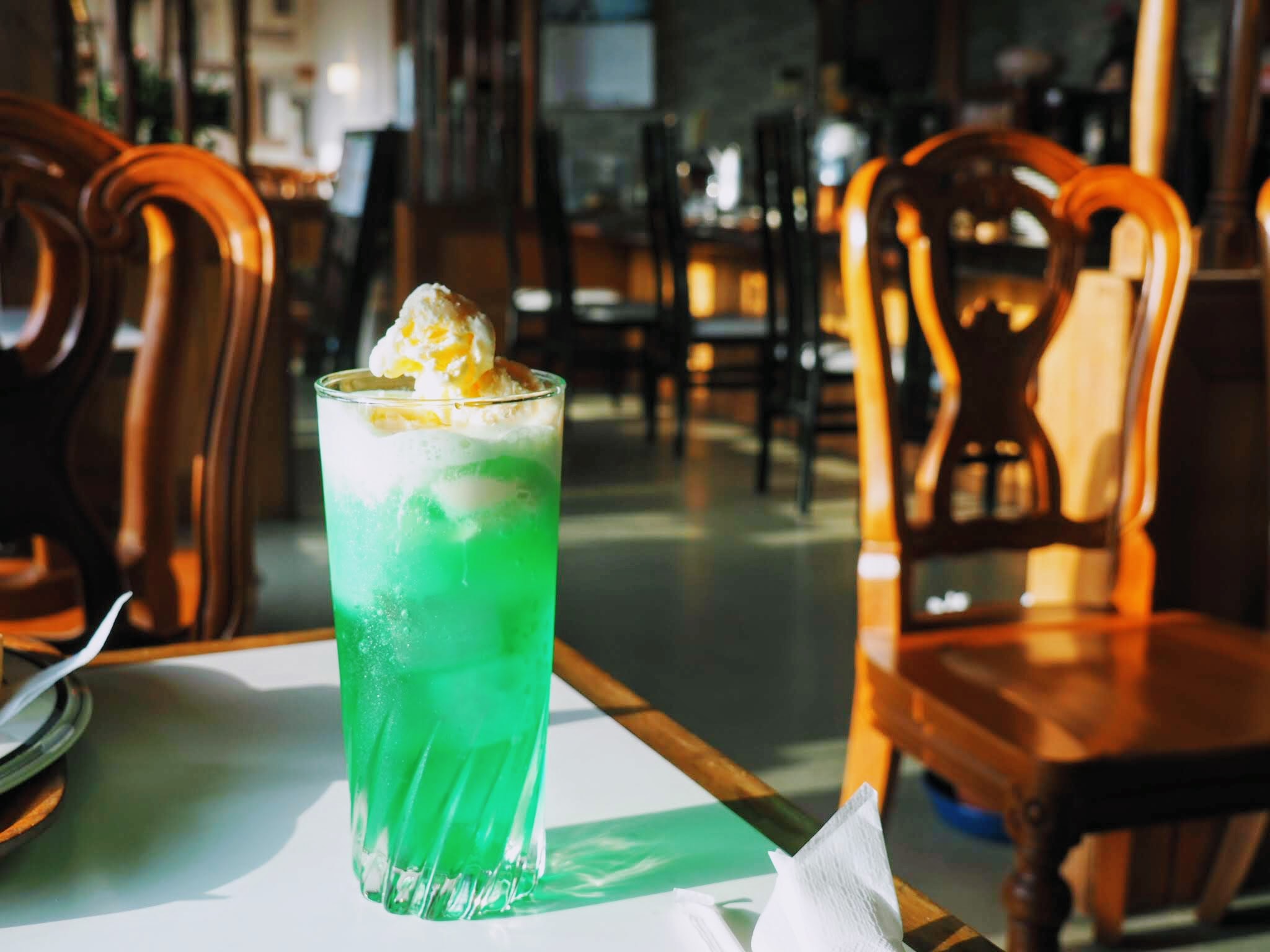 Unfeasibly green cream soda floats are also a must.
喫茶店に入ったら必ず飲みたくなるクリームソーダ。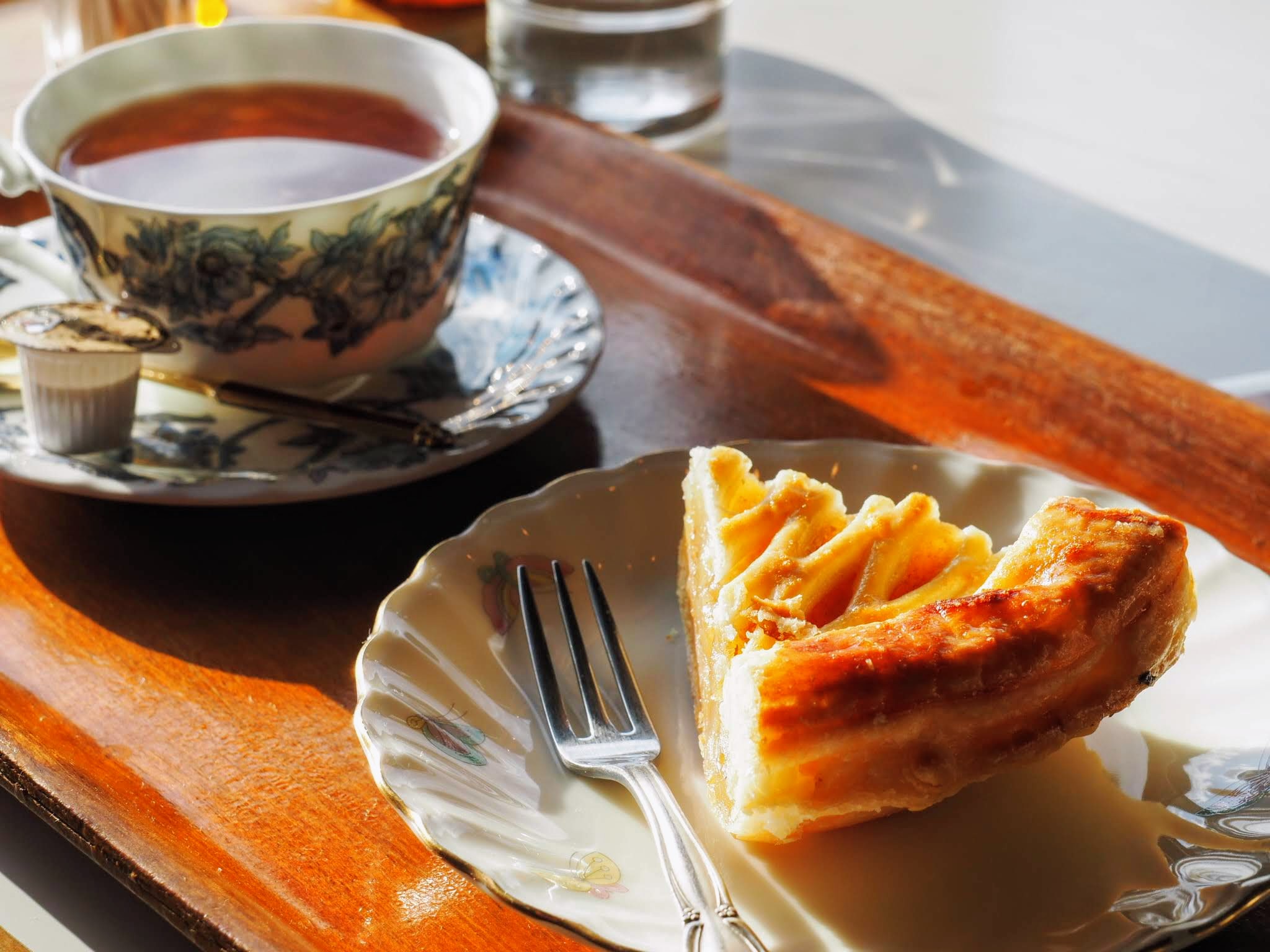 The homemade apple pie here was also excellent and went very well with a cup of tea served in a dainty cup.
紅茶と一緒にいただく自家製のアップルパイ。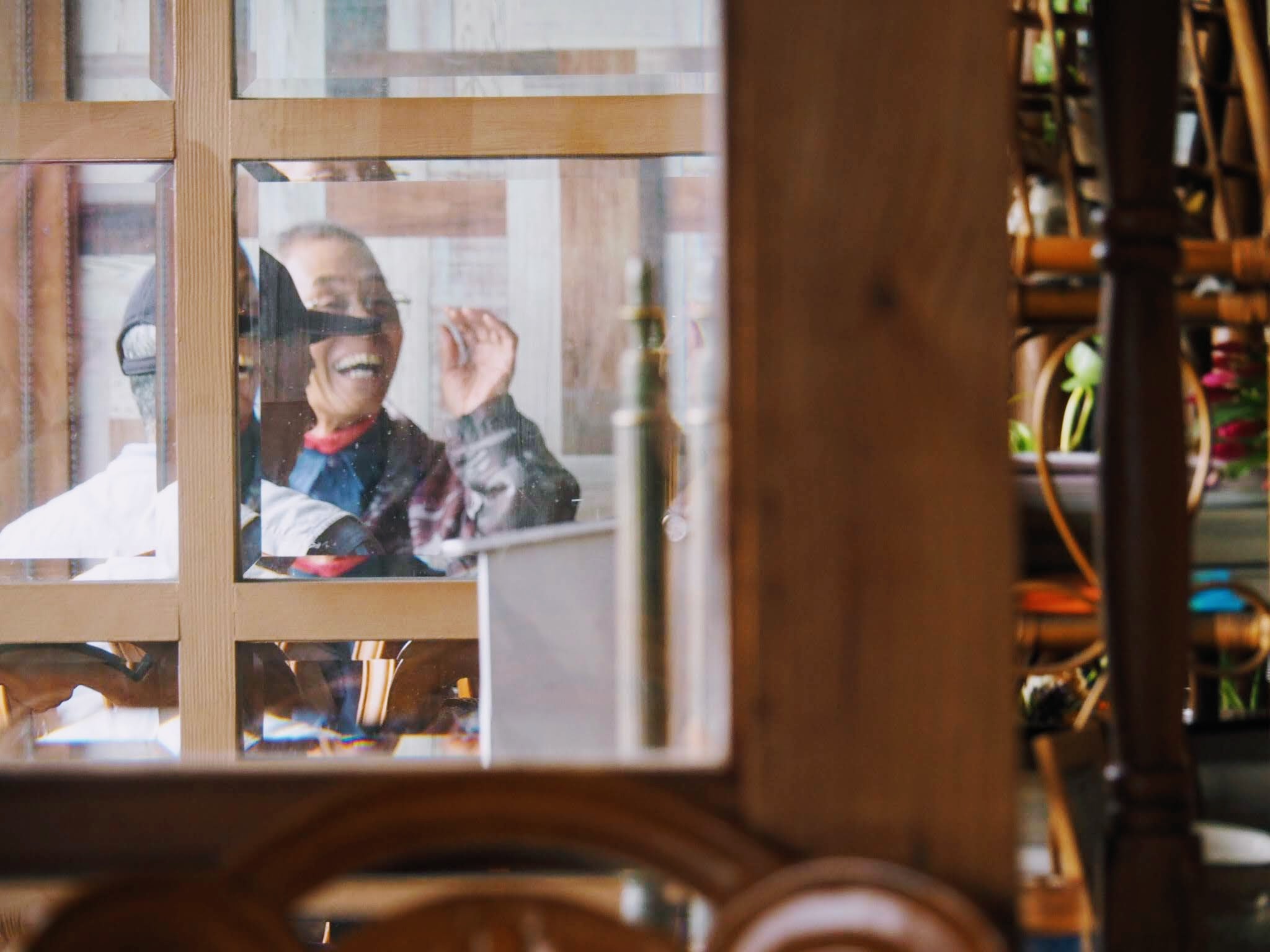 珈琲の香ばしい香りが漂う夕方のモナミは、地元の方達の笑い声で賑わいます。
Monami has been around for almost half a century and you could sense its strong connection to the community as the the aroma of ground coffee beans and sound of laughter filled the air.
A Hiroshima Bunkyo University graduate herself, Nishida-san took over the running of Monami from her mother. Monami offers modern services such as WiFi and free use of power outlets, but Nishida-san is admirably uncompromising when it comes to the pricing of the staple of the kissaten, its coffee, which remains at ¥350 a cup.
お母様の代から続く48年の老舗喫茶店を切り盛りする西田さん。
実は西田さん、広島文教大学の卒業生でした!
コーヒーの単価が上がり続ける中、喫茶店のコーヒーの定額350円は可能な限り維持し続けたいと頑張っておられます。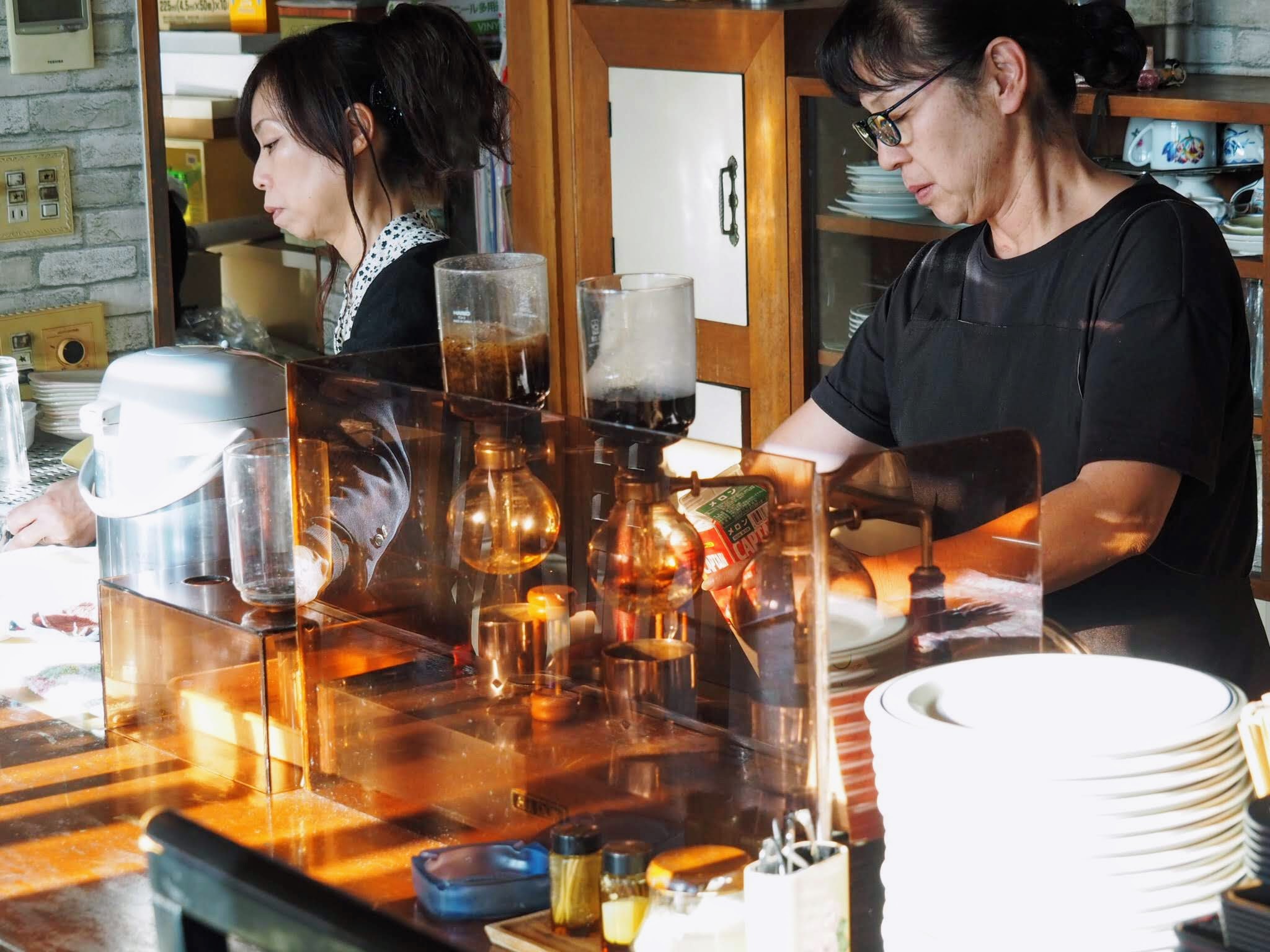 Our server's father returned with a friend from a fishing trip and took over duties behind the counter.
ちょうど釣り帰りのモナミのお父さんと娘さんがバトンタッチ。
釣り仲間に丁寧にコーヒーを淹れます。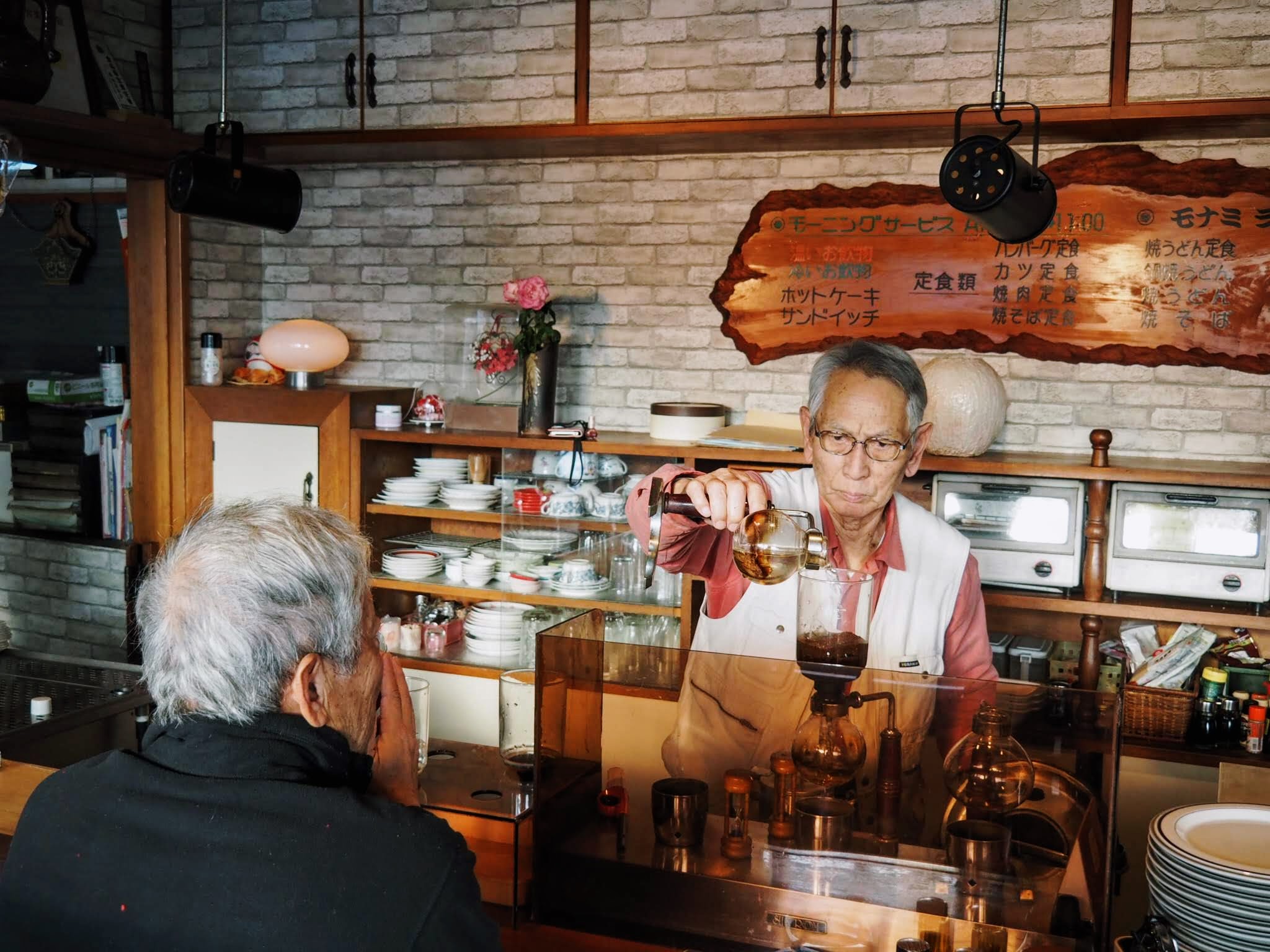 They had had a good day, returning with a impressive catch of hamachi yellowtail and sawara Spanish mackerel, destined for the plates of diners the following day.
この日は大きなハマチとサワラで大漁。
釣り好きのお父さんが釣って帰る新鮮なお魚は、
モナミの日替わり定食のメインになることがほとんどなのだとか。
毎ランチ足繁く通われている、広島文教大学の田村先生が食べるであろう翌日のハマチの日替わり定食を想像して一同よだれが。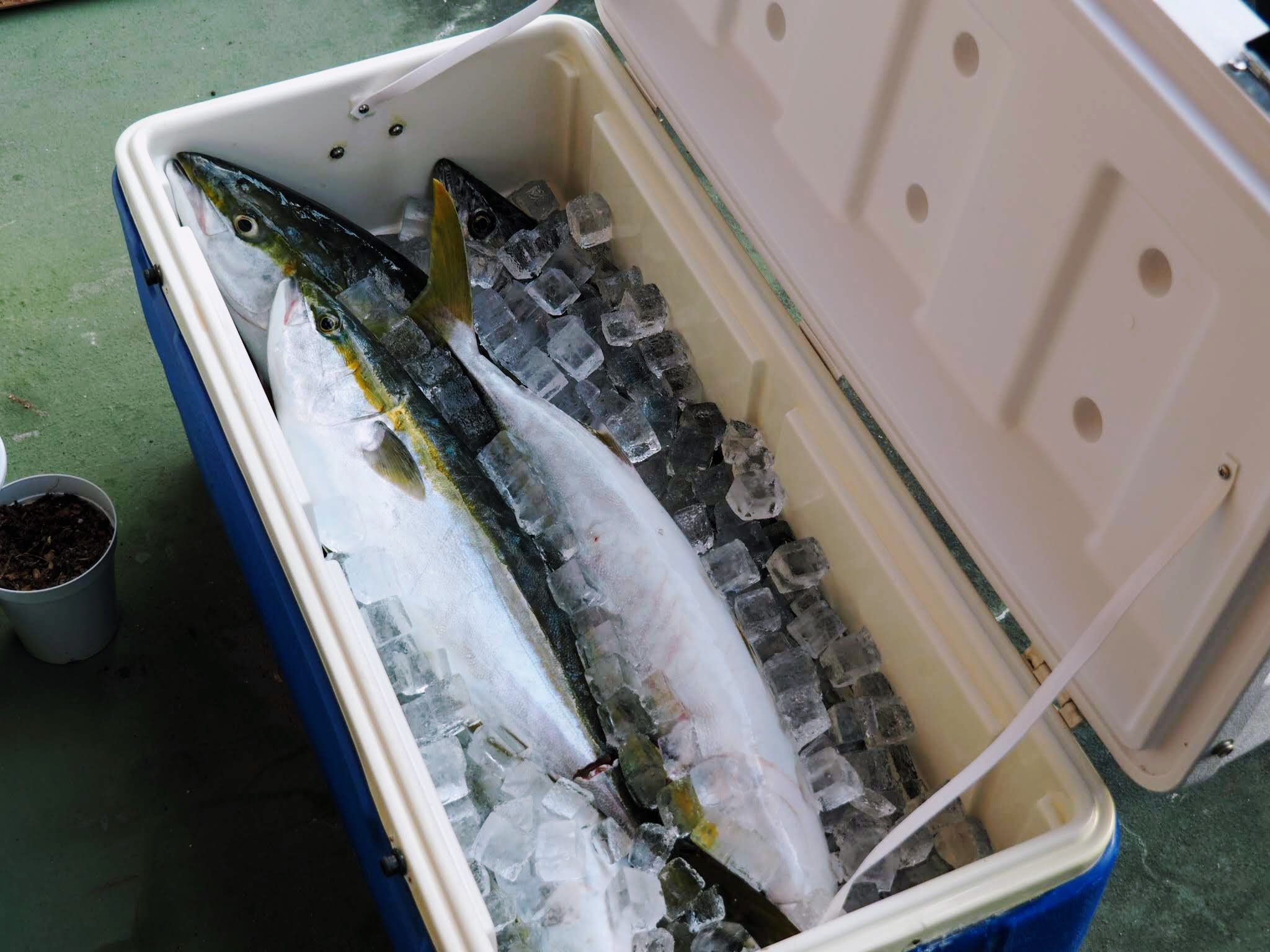 So, what did our young guest make of her first jyunkissa experience? I was happy to hear that she found the retro atmosphere highly instagramable (and she certainly had an eye for highly likeable camera angles), and even more delighted that she would introducing Monami to her friends.
今回の取材で初めて喫茶店に訪れた越智さんも、喫茶店ならではのレトロ感がインスタ映えになると、今度は大学の友人と一緒に訪れることを楽しみにしてお店を後にしました^^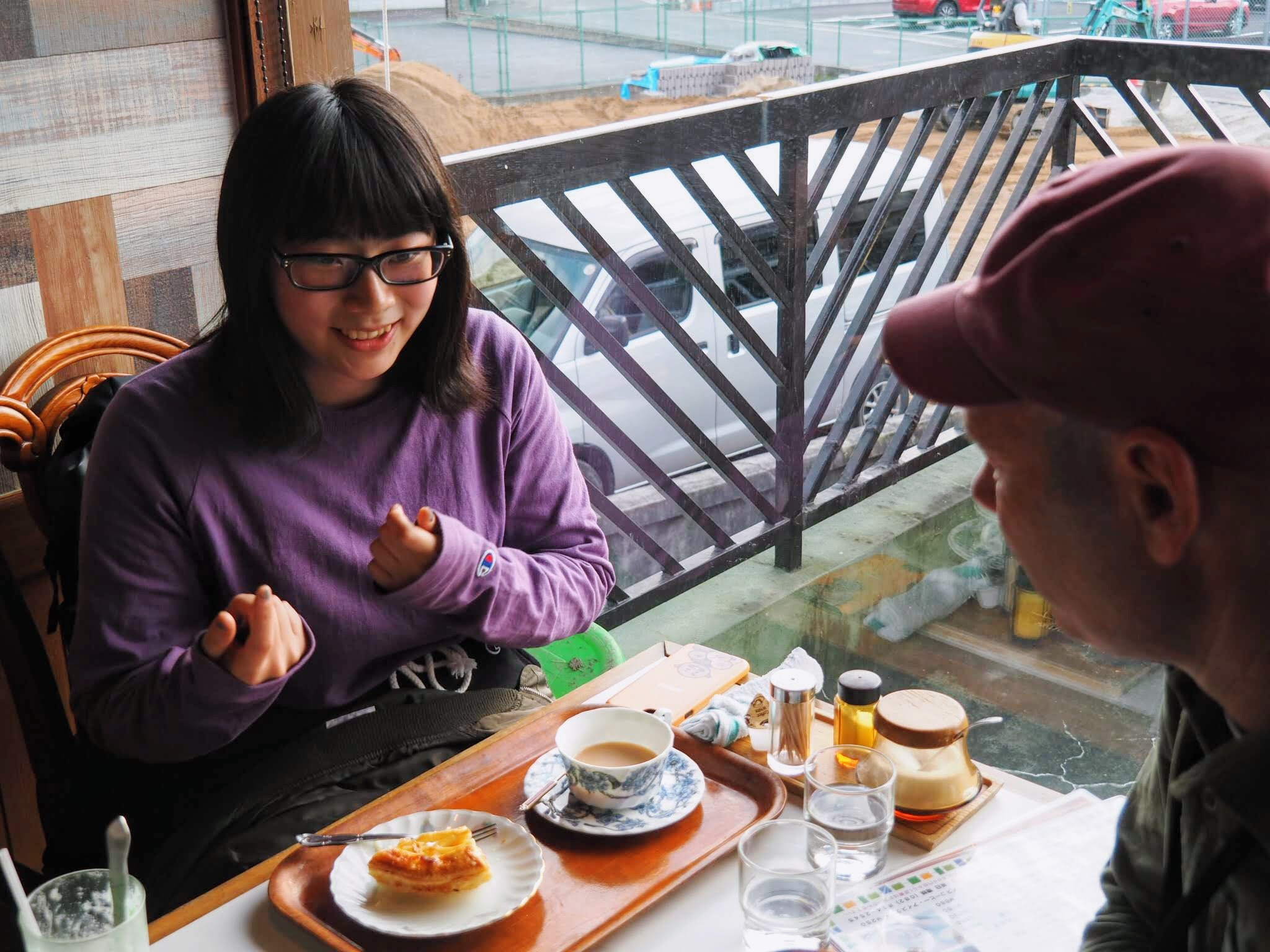 Many thanks to Nishida-san for her kind hospitality and delicious toast!

突然の取材に快くご対応くださった西田さん、ありがとうございました^^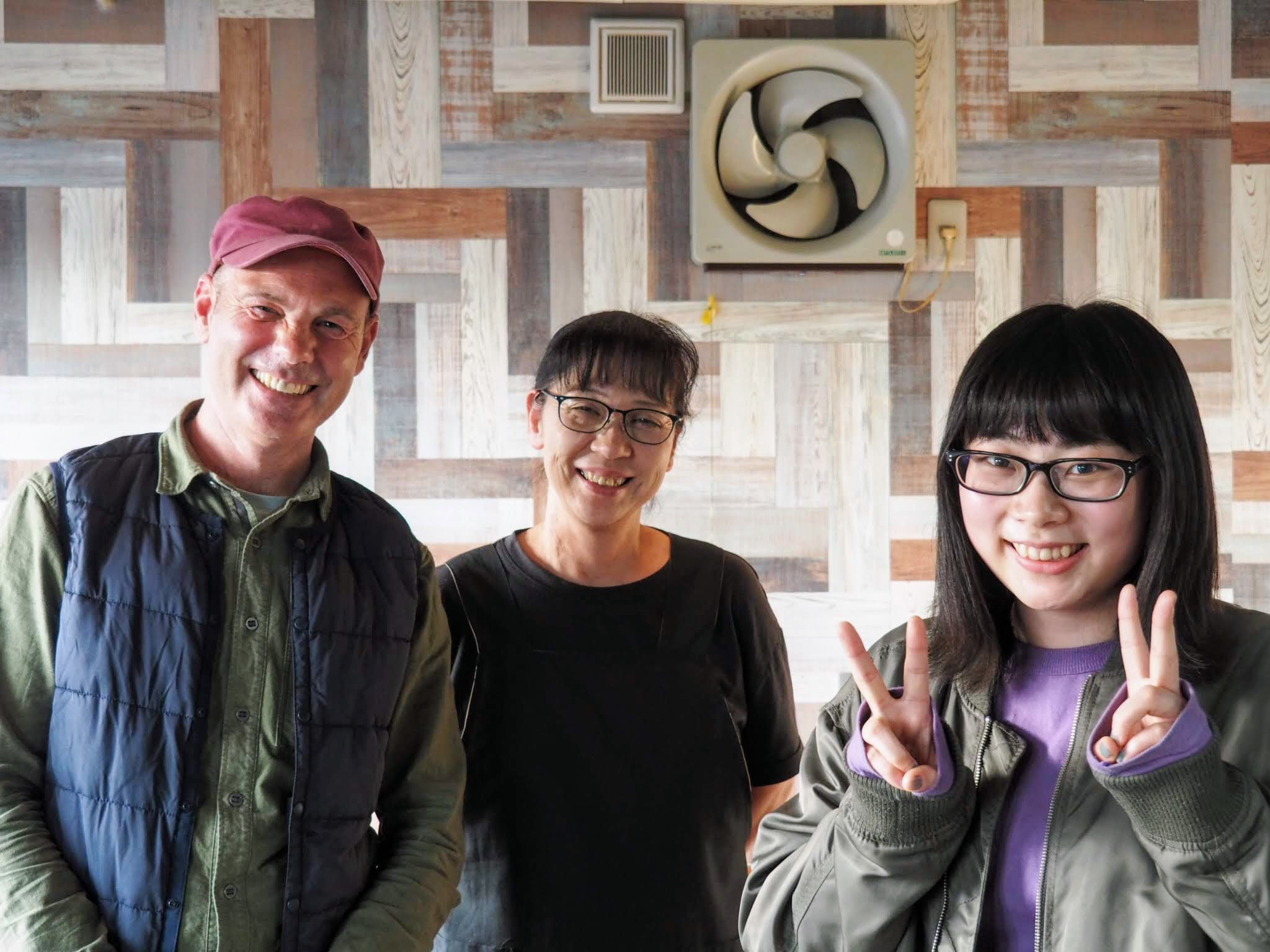 ジェネレーションギャップの会話に花を咲かせながら、昼下がりのお茶を楽しみました。
Support local businesses and support local culture. Pluck up some courage and push open the door. Long live junkissa, long live Monami!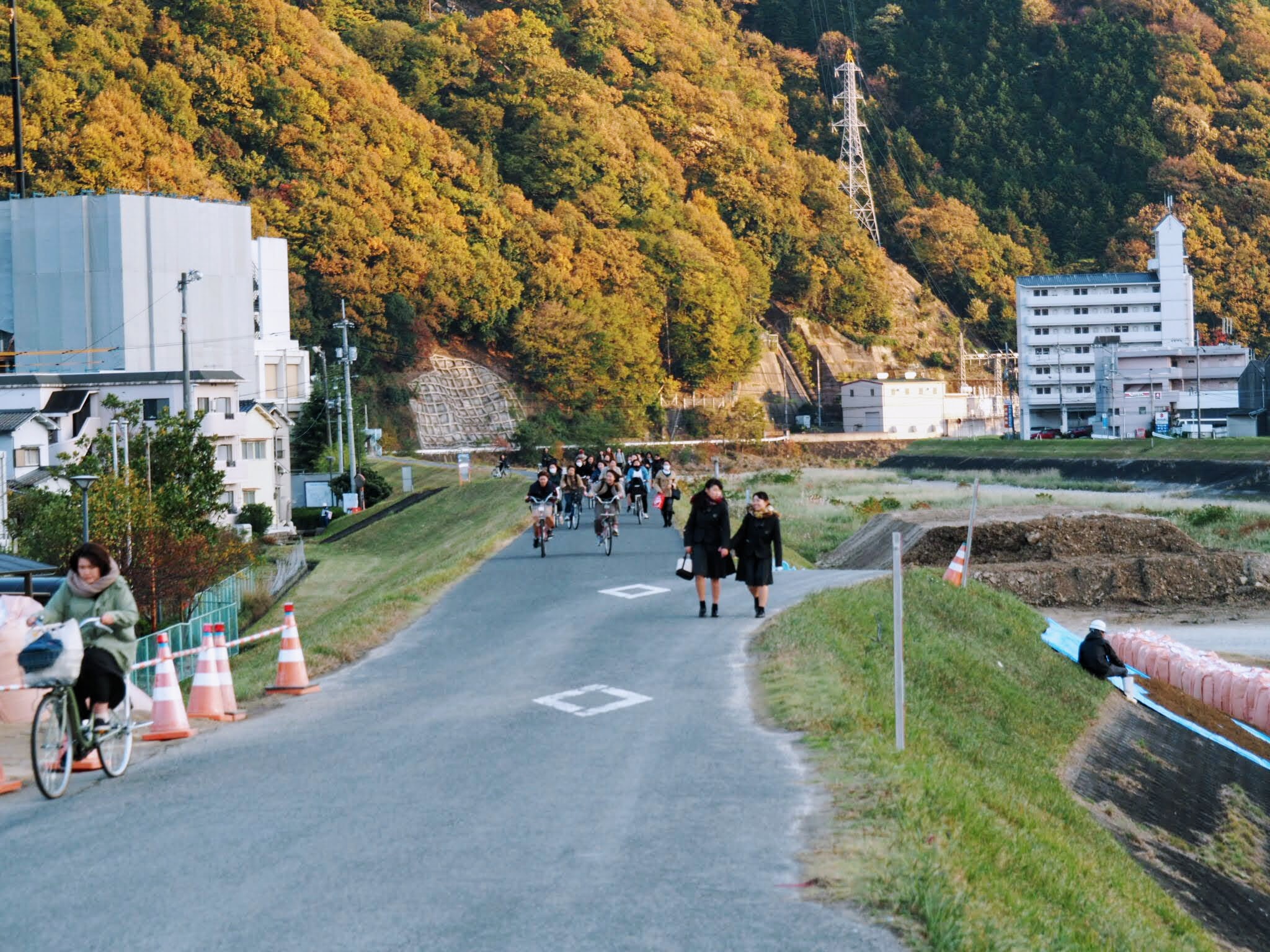 この記事を書いた人